Unique Hotel in the Costa del Sol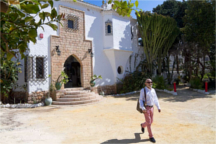 The Miami Hotel is located in Torremolinos (Malaga, Costa del Sol, in Spain), in the area called "Carihuela". It is less than 50 meters from the beach and 5 kilometers from the airport.[
see the access map
].
Originally, this small palace was the country house of the well-known flamenco dancer, Lola Medina, the queen of the gypsies living in the holy mountains in Granada. The building was designed and decorated around 1950 by Manolo Blascos, the cousin of the greatest 20th century painter, Pablo Ruiz Picasso. Famous artists and intellectuals were known to meet there.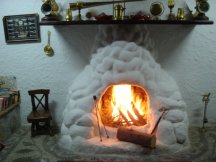 These walls have witnessed a lot of famous meetings, that were taking place clandestinely, and where « the Gipsy Queen », as the host, entertained her guests by dancing in the lounge on a Granadian mosaic, close to the fireplace. The same lounge where a painting called « Death of a torrero » is displayed, it depicts the critical wound of the famous torrero « gitanillo Chico » that took place august 10th 1952.
This house was purchased in 1955 and modified into a hotel, while preserving its charm and the typical Andalusian construction style.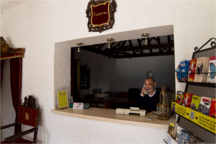 Open 9 months a year, and benefiting from the hot climate of the region, the Miami hotel is ideal to spend holidays in a traditional Andalusian setting, far from the high rise buildings of the Costa del Sol, in a family atmosphere.
You can rest at leisure in the tropical garden around the swimming pool, enjoy our delicious home-made paella (avalaible only on request with fresh food) along with an excellent sangria, or take advantage of the sea and shops along the beach.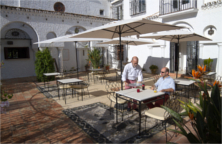 The connoisseurs of the Spanish life will also find fun places in Benalmadena (10 minutes on foot) where they will have the chance to enjoy some unforgettable evenings in fashionable night-clubs.
As Torremolinos is located one hour driving distance from Granada and two hours from Sevilla, the Miami hotel is the ideal place to stay for alternating visits and beach time.